SOOOO I may be overestimating my WELLNESS these days, but I am ready to start some major projects that have been sitting around while I have been.....well SITTING AROUND!!! So I decided to join a couple of sew alongs. First off....
From an Igloo
is having a sew along for a cute coat. I already have the fabric and pattern and have actually cut it out already. Now for the fun part----actually sewing it together:)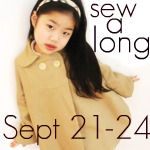 SOOO as of Tuesday I will be a coat sewer.....who knew.
To go along with making this cute coat, I am also gonna join
THE KIDS CLOTHES WEEK
CHA
LLENGE!!!
I am super excited about this one. I planned on joining the Spring/Summer version and I am not sure what happened. LIFE I guess. The main idea is that for ONE week you will sew for at least ONE hour a day on clothing projects for your kids. We will see if I can live up to that, but I am REALLY gonna try and finish some darn projects that need to get out of my TO DO pile.
I hope that I will have some cute stuff to share next week----or maybe I will just sit on the couch and eat ice-cream. Either way I will keep you posted!!!